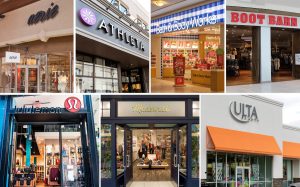 There is not much "new" to write about when it comes to specialty retail. How often can we talk about the inexorability of Amazon; the metastasizing of dollar/value retailing; the exigency for experience; the hotness of young, unproven business models; the hard march to AI and automation? And let's re-mention the digital-native darlings.
What I've never seen remarked upon is that there is a small group of quite traditional, offline-native specialty retail chains, focusing on things that specialty retailers have always focused on, who are also experiencing significant store, comps and profit growth.
This G7 is: Aerie, Athleta, Bath & Body Works, Boot Barn, Lululemon, Madewell, and Ulta Beauty.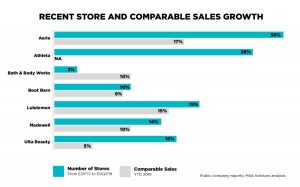 On the surface, these high-growth chains have little in common. Madewell and Aerie are adolescents, launched in 2006; Boot Barn is a grizzled-yet-vigorous 40+ years old. Five of the seven are mostly mall chains, combatting landlord traffic declines. Two feature mostly third-party brands. One is male dominant; another sees men's as a huge growth initiative. Combined, they sell active, beauty, boots, denim, intimates, home fragrance, personal care, sleepwear, sportswear, workwear and cowboy hats.
So why are these retailers winning while their peers suffer? I recently posed that very question to a group of my colleagues (all current and former specialty retail execs). Our answers should not surprise you.
Aerie
This intimates brand took several years to find its footing, but for the past 20 quarters has experienced double-digit comps. With 141 standalone and 170 side x side stores, Aerie will soon exceed $1 billion in annual sales.
Aerie's success stems from a brand positioning focused on un-retouched body positivity, a fun and more casual aesthetic and a genuine embrace of diversity and inclusion — a brand for "real women" according to brand President Jennifer Foyle. As Victoria's Secret's angels have fallen, Aerie has risen. Its core product focus was initially in t-shirt bras, bralettes, cotton undies and sleepwear, but as the brand attains more "lifestyle" dimension, it is expanding into apparel and active, with huge growth implications.
Let's also not overlook Aerie's strong sibling connection to American Eagle Outfitter, who generates its own store traffic, lends its strong brand equity and builds awareness and trial for whatever Aerie cooks up next.
Athleta
Athleta was founded in 1998 and acquired by Gap in 2008. With 190 stores and exceeding $1 billion in sales, the women's activewear retailer is considered the singular growth vehicle within Gap Inc's specialty labels (excluding Old Navy, which Gap Inc. will spin off in 2020).
Women's active apparel is an estimated $24 billion market, growing six percent annually (NPD). While Lululemon owns the premium yoga wear positioning, Athleta merchandises a broader assortment of "sportwear" in the store, with sections marked for training, hiking, yoga, "commute" and girls. They also have more style variation, colors and sizes than Lulu. Additionally, the brand actively messages its social responsibility — for women's empowerment and, as a B Corp, for fair trade and sustainability. Athleta positions itself as a premium brand, with prices just a bit lower than Lulu's (e.g., core leggings at Athleta are $89-109 vs. $98-129 at Lululemon).
A big draw for many customers is the brand's loyalty program. While the retailer runs mostly clean ticket, its Rewards program offers five points for every dollar spent, which build to coupons worth $10 for every 100 points earned.
Bath & Body Works
Bath & Body Works was birthed from the Express apparel chain in 1990, and is now, combined with White Barn Candle Company, a $5 billion unit of L Brands operating 1,740+ stores. The most dazzling statistic, however, is its 23 percent operating profit margin.
How does this personal and home fragrance brand continue to grow so rapidly when two-thirds of its fleet remains in malls? First, Bath & Body Works has chosen to compete in product categories – giftable and everyday products with high margins in categories that, through its merchandising skill and scale, the retailer can thoroughly dominate. Second, the body lotion, soap, fine and home fragrances are treated as fashion, with frequent launches and in-store storytelling driving demand that no other retailer can sustainably match. Third, it merchandises with agility and speed. Its domestic sourcing capability allows it to test and react quickly and confidently, helping to maximize sales and minimize markdowns. Lastly, the company makes major investments in consumer insight-led product innovation, which allows it to improve quality and innovate new products in areas its customers value most.
Boot Barn
With sales nearing $850 million and 250 stores, Boot Barn is the country's largest western and work wear retailer. The roughly $8 billion western wear market (think Ariat, Wrangler and Justin) is driven by the popularity of country music, ranching and agriculture, horse ownership, and Western events like rodeo. The roughly $12 billion rugged workwear sector (think Carhartt and Wolverine) is driven largely by outdoor blue-collar jobs in construction and oil & gas. Over time, the western + work combo has evolved into a highly productive format, generating significant cross shopping between the two segments. Boot Barn had once grown mostly by acquiring smaller regional competitors in what has always been a highly fragmented sector. But since its last acquisition in 2015 of the 25-store Sheplers chain, Boot Barn has relied principally on organic growth.
Boot Barn's biggest selling point is a category-killer sized assortment of cowboy boots in one section and a like assortment of work boots in another. The boots are all open stock, assorted by size. If you are a size 10, go to the rack marked size 10, quickly try any number of styles, and if a pair fits, walk to the wrap and hand over your $200+. The vendor then is immediately alerted of the sale, and delivers the replenishment SKU straight from its DC. But other selling points are: head-to-toe merchandise mix; full omnichannel ordering and delivering capabilities; a local store that authentically represents the western and work lifestyles; store associates who are boot experts and themselves live the life; and a brand that invests in community rodeos, 4-H clubs, veterans and other local organizations.
Lululemon
In 2000, Lululemon opened its first boutique in Vancouver, Canada, offering its own make of high-priced, yoga wear for women in a serene, centered aesthetic. The brand quickly evolved to be the status brand for all yoga-inspired fashion; and now "sweat" replaces serenity as a core equity. For FY2019, Lululemon claims 460+ stores in 14 countries, nearly $4 billion in sales, $1,600 in store sales per square foot, and an operating margin likely above 22 percent.
To achieve this success in what was a decade ago still a niche fashion segment, the brand did many things right — foremost was designing a legging that made a woman's buttocks look toned and fabulous. It entered new markets by enlisting yoga studio instructors as brand ambassadors, hiring only yogis as customer-facing associates and sponsoring and supporting the local yoga community. The brand famously conducts yoga classes in-store on Sunday mornings. Its current phase of double-digit expansion is to use this formula to grow significantly across other "sweat" activities (running, training, etc.) and across more classifications of fitness apparel and accessories. Digital, men and international are also big targets for growth. One example of the business' omni/digital prowess is that lululemon.com lists markdown product located in individual stores across the chain. Pop-up stores? Lululemon has over 40 of them.
That yoga wear/athleisure has now become mainstream, casual-occasion dressing also helps. One Canadian journalist best summed up the brand's magic, "Lulu is not selling workout clothes so much as they are selling membership to a club with a very appealing uniform."
Madewell
At 138 stores, roughly $650 million in sales and a looming IPO, Madewell's continued growth momentum caught me and my colleagues by surprise. A fast-growing and profitable mid-market women's specialty apparel chain?
With denim at the foundation of its assortment, Madewell has had the good fortune of riding (and perhaps playing a central role in) the diversity of denim pant silhouettes, fits and sizes for women. Remember when low-rise, skinny was the uniform? See how many more jeans and matching tops you now have to buy! But leave it to Mickey Drexler and his teams to somehow make basics "must have" fashion items through continuously landing on-trend collections and superior storytelling.
Another factor in the business' success is the "heritage brand" play of Madewell 1937. The store design, types and copy convey a simpler time, but also help communicate the high quality (made well) garment construction, with an implied greater value and longevity than competing designer denim brands can offer. The brand also makes a unique commitment to social change: by donating an old pair of jeans, which will be recycled into home insulation for Habitat for Humanity homes, you get a discount on the next new pair you buy.
A Sample of Madewell Denim Silhouettes

Ulta Beauty
Founded in 1990 in suburban Chicago, Ulta has 1,241 stores and an estimated $7.4 billion in sales. The retailer adopted an old formula, the off-mall category killer, and added a couple "new retail" twists. Defining beauty broadly, Ulta has assembled an estimated 500 well-established and emerging brands from prestige and mass cosmetics, fragrance, skincare and haircare. Second, the store incorporates a 900+ square foot beauty salon, adding to the store's "customer experience," imparting expertise and providing product referrals. Third, Ulta has had tremendous success courting and quickly becoming the biggest outlet for celebrity and social-media fueled emerging beauty brands such as Too Faced, Kylie Cosmetics and SugarBearHair.
Perhaps it's the company's Midwest heritage, but the broad-based, accessible assortment is matched with attentive, expert and above all friendly customer service, forging significant customer loyalty. The company's Ultamate Rewards program has 33 million members and captures over 95 percent of Ulta's transactions. Within the beauty space, Ulta has a comparatively large and active social media presence and, at least during this holiday, dominance in paid search.
Takeaways
What can we learn from these retailers' growth stories? Pre-Amazon Prime, malls multiplied and brands ruled. If a brand could claim one big thing (i.e., lowest price, biggest assortment, aspirational lifestyle, best customer experience, sexiest underwear, etc.), that was sufficient for success. In this current era of endless disruption, Barbara Kahn in her book The Shopping Revolution, argues that a successful retailer must stake a claim in at least two dimensions.
Here are the strategies that our G7, in some combination, employed to win:
Sell the right product categories, i.e., those with intrinsically high emotional content (and therefore loyalty and margin), like beauty, fragrance, yoga-inspired wear, denim, intimates, boots. Then merchandise to own the space in a format and channel you can dominate.
Create (or adjust) a brand position to resonate with current culture. Today's culture values sweat, ruggedness, authenticity, innovation, value, convenience, body positivity, diversity, inclusivity, empowerment and social responsibility.
Support the local ecosystem and become its "local" store. Lululemon and Boot Barn invest in the local lifestyles that then support the store, a virtuous cycle.
Tell good stories. How else do you sell fashion? Bath & Body Works and Madewell excel here.
Innovate. Lululemon is the leader for yoga-inspired fashion and its expansion throughout sweat activities. Ulta offers the latest innovations from the trendiest brands across the market. Bath & Body Works now makes the absolute best three-wick candle.
Engineer loyalty. Ulta's loyalty program covers 95 percent of transactions? Insane.
Roll up a highly fragmented sector. Boot Barn has a track record and the superior retail formula in its sector.
Consider the category, competition and cultural bend. Activewear is hot now. Denim is, too, but for how much longer? Beauty's growth has slowed as women revisit more natural looks. (Handbags was the last major category to rocket then flame out – or at least suffer from oversaturation.) How fast would Aerie be growing if the Heathers and Mean Girls still ruled? Where would Athleta be if Chip Wilson had first started making leggings in technical cashmere?
So, let's honor these seven retailers and their strategies as David Byrne might (though with less music) – with a celebration of specialness.